Ice Cream Maker
Ice Cream Maker Attachment for 4.8 L Stand Mixer is rated out of 5 by 401.
Make up to 2 quarts of fresh ice cream, sorbet and a variety of other frozen desserts quickly and easily. (Fits all Household Stand Mixers 4.5 Quart and larger).
White - KICA0WH
Features
Ice cream, gelato or sorbet
Makes up to 2.0 quarts of our your favorite frozen treat in 20-30 minutes. Allow your ice cream bowl to freeze at least 24 hours prior to use.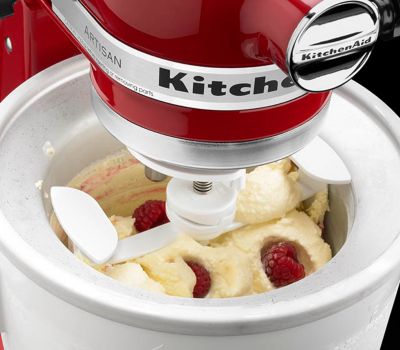 Thorough ingredient incorporation
With the dasher which rotates inside the bowl to spread, scrape and mix.

Easy to Clean
With warm soapy water.
Reviews
Rated 4 out of 5
by
Kiwimargie
from
Love it
My hubby and I were given this freezer bowl as a gift by our children who know we love homemade ice cream. We used this wonderful device to soft freeze our favorite ice cream flavors nearly once a week! I didn't read the owners manual unfortunately and the blue liquid started showing up in the freezer. I continued to use the bowl anyway . Eventually enough blue liquid came out of an invisible crack that it barely freezes now. I should have read the owners manual. And I still used it for over two years , close to one hundred times. I will get another bowl and follow the recommendations for storage and freeze time before use. I would love to see the leak problem solved for this product.
Date published: 2018-08-11
Rated 1 out of 5
by
KellyF
from
I've never been able to get this to work.
I've kept the freezer bowl in my freezer for weeks and chilled my ice cream mix overnight, but it won't stay cold long enough for ice cream to freeze.
Date published: 2018-08-04
Rated 1 out of 5
by
Sbiadina
from
So dissapointed
I bought the ice cream attachment KICA0WH 5 days ago. It is impossible to attach the driver assembly. We ended doing the icream manually, a waste of time and inngredients. So frustrating, me and my daughter we're so excited to get to use it. I am definitely returning it.
Date published: 2018-07-12
Rated 1 out of 5
by
Ice Cream
from
Bowl Breaks and Blue Fluid Leaked
Purchased. It worked well. Bowl broke and leaked blue fluid. Bought a second time. Used it once. Put it in storage. Took it out to us...bowl is cracked. Never again. Bad product.
Date published: 2018-07-07
Rated 1 out of 5
by
the cheesecake lady
from
Not worth the money and headache
I have a problem with the cheap plastic parts in the KitchenAid Ice Cream Maker which is the drive assembly and paddle. It easily broke the second time I used it. The replacement cost is around $20 which is 25% of what I paid. KitchenAid has been a staple in my kitchen for the last 23 years,but the Ice Cream Maker for me is a deal breaker for me, I do not recommend this to anyone.
Date published: 2018-07-06
Rated 5 out of 5
by
Janie P
from
So easy!
I bought this three weeks ago and I just love it! My grandson & I have made vanilla, vanilla with chunks of strawberry-rhubarb cobbler folded into it, pistachio and, chocolate with dark chocolate covered caramel. It's super easy to use, I just follow the instructions for use and care. I expect to be using it for years to come!
Date published: 2018-07-03
Rated 1 out of 5
by
DMJU
from
Bowl stuck on mixer stand after one use!
I bought this a week ago and was excited to make fresh ice cream using the strawberries we had just picked. Follow all instructions for assembly and have used an ice cream maker in the past, so comfortable with the process. I have a red Artisan stand and the bowl fit fine, but after I poured in the liquid ingredients and churned it, the bowl would not budge! I attempted to place a hot wet towel around it, sprayed vegetable oil and finally resorted to using a towel and hammer to tap the handles on each side. It finally released but was leaking and cracked (did not think I used that much pressure.) Disappointed and now unable to use again.
Date published: 2018-06-23
Rated 1 out of 5
by
Deb R
from
fragile drive attachment
I got this for a wedding gift and when I tried to use it the first time the drive attachment broke. I have no idea how to get a replacement part or return it.
Date published: 2018-06-16
Rated 1 out of 5
by
Memphismom21
from
Won't stay attached
Bought my attachment 6 months ago and can't even use it because it wont attach to the machine like it says to. I was looking forward to making ice cream with my kids.
Date published: 2018-06-12
Rated 5 out of 5
by
Val2325
from
Easy
This ice cream maker is easy and simple to use. I like it.
Date published: 2018-06-05