Ice Cream Maker
Ice Cream Maker is rated out of 5 by 394.
Make up to 2 quarts of fresh ice cream, sorbet and a variety of other frozen desserts quickly and easily. (Fits all Household Stand Mixers 4.5 Quart and larger).
White - KICA0WH
Features
Ice cream, gelato or sorbet
Makes up to 2.0 quarts of our your favorite frozen treat in 20-30 minutes. Allow your ice cream bowl to freeze at least 24 hours prior to use.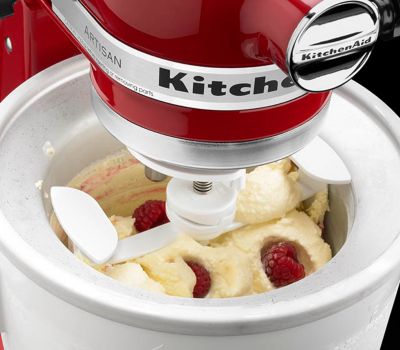 Thorough ingredient incorporation
With the dasher which rotates inside the bowl to spread, scrape and mix.

Easy to Clean
With warm soapy water.
Reviews
Rated 1 out of 5
by
Deb R
from
fragile drive attachment
I got this for a wedding gift and when I tried to use it the first time the drive attachment broke. I have no idea how to get a replacement part or return it.
Date published: 2018-06-16
Rated 1 out of 5
by
Memphismom21
from
Won't stay attached
Bought my attachment 6 months ago and can't even use it because it wont attach to the machine like it says to. I was looking forward to making ice cream with my kids.
Date published: 2018-06-12
Rated 5 out of 5
by
Val2325
from
Easy
This ice cream maker is easy and simple to use. I like it.
Date published: 2018-06-05
Rated 4 out of 5
by
SunnyD53
from
Makes great ice cream
I absolutely love this ice cream maker. I only wish that the assembly drive would fit correctly.
Date published: 2018-05-30
Rated 3 out of 5
by
Carol59
from
Replacement parts?
Is it possible to buy the drive unit and dasher only?
Date published: 2018-05-27
Rated 1 out of 5
by
Ajhendy
from
Broken after only a few uses
I received this as a wedding gift and only used it once or twice. Pulled it out of the cabinet today and it was leaking blue fluid everywhere. Very disappointing considering the price.
Date published: 2018-05-27
Rated 1 out of 5
by
MAV81
from
Leaking Blue Liquid
I only used the ice cream maker a few times and now it is leaking blue liquid.
Date published: 2018-05-24
Rated 4 out of 5
by
Kerstingm
from
Awesome homemade icecream
Once we figured out how to assemble everything our 1st attempt at making homemade icecream was amazing.
Date published: 2018-05-20
Rated 1 out of 5
by
BigE
from
leaks blue liquid
ive had this for several years now, use it once or twice a year. just took it out of freezer and started mixing ice cream. wouldn't freeze for over an hour so i noticed it had condensation and no ice. poured out custard into bowl and hand washed out the mixer. three spots inside flaked off the silver coating and blue liquid started pouring out the inside. throwing the maker away and the custard, dont want to poison myself with any of that blue in the custard.
Date published: 2018-05-18
Rated 2 out of 5
by
Elvaiva
from
Assembly
Attachment to mixer that holds the paddle is nearly impossible to attach. I cannot put it on at all and sometimes my husband cannot attach it. Terrible design. If anyone has an idea to get it on, I would like to know.
Date published: 2018-05-07